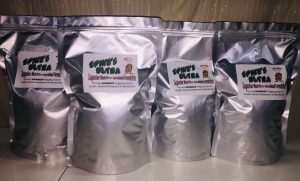 I feed and recommend Spike's Delite Ultra. It is made by Pet-Pro Products in Middletown, Missouri.

They currently produce several adult hedgehog diets, I feed the Spike's Delite Ultra and suggest this one over the rest.

Spike's Delite Ultra has a protein content of 35% and a fat content of 12% (perfect amount for hedgies)

It contains chelated minerals which allows the minerals to be more readily absorbed.
It has no added preservatives so I like to suggest storing it in your refrigerator.
Spike's Delite is not found in pet stores. 
You can order directly from Pet-Pro and will receive a 10% discount when you mention my name, Rebekah Scarola at Briar Patch Hedgehogs. 
The toll free number for Pet-Pro Products is 877-977-8310
You can also visit their website at www.pet-pro.com
Below are examples of what NOT to feed your hedgehog…
I also use a high quality cat food in my kibble mix, but this is only to increase the fat content for my babies as well as my pregnant and nursing moms!