Applicable sales tax will be applied to all orders (7%). Oregon residents are tax exempt with a valid Oregon drivers license.

2 lb bags of Spike's Ultra for $20
This is an excellent food for hedgehogs and I highly recommend you purchase this food when you pickup your hedgie from me.  2

lbs for $20

($21.40 after taxes)

 Supplies for sale!
Hedgehog snuggle sacks, $15 each ($16.05 after taxes)

Our snuggle sacks have an inner layer of super warm, cozy fleece and an outer layer of cotton with a cute print. Sacks are pre-washed! I can't guarantee the availability of any sack pattern. Different patterns on hand at different times.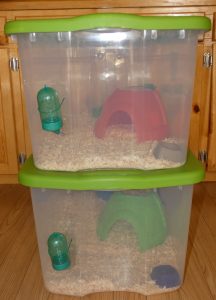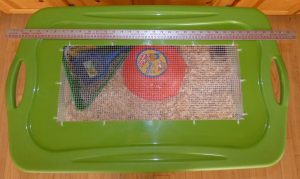 Cage set. It is made from a 120 quart Sterilite plastic tub measures, 18″ x 30″ x 15″ high, modified to hold a water bottle from the outside (only the spout inside) and with a fresh air, wire lid. This kit includes an igloo hut, food dish, BIRD water bottle, corner litter pan, and a litter scoop. These cages are often underestimated. They are pretty big, these are the large plastic tubs and are the same size as large guinea pig cages that so many try to use, but these cages with wire sides are SO dangerous. Special order, need to know at least a day in advance if interested in this set. $75 ($80.25 after taxes)

Save